All-on-4 Dental Implants- State College, PA
Replace Your Missing Teeth Faster Than Ever Before
People who are already missing all of their teeth, or those who are on the brink of total tooth loss, need a secure replacement. Dental implants provide the ultimate stability, but the traditional method of implant placement may be too costly or invasive -- especially for older patients. If you need a comprehensive tooth replacement following complete tooth loss, it's time to learn about All-on-4 dental implants in State College, PA also known as Teeth-in-a-Day. Keep reading to find out more about the revolutionary tooth replacement option from Dr. Kevin P. Labosky.
Why Choose Kevin P. Labosky, DMD for All-on-4 Dental Implants?
Partners with Experienced Periodontist and Oral Surgeons
Highly Customized Restorations Made from Lifelike Materials
Receive Your Restoration the Same Day as Surgery
What Are All-on-4 Dental Implants?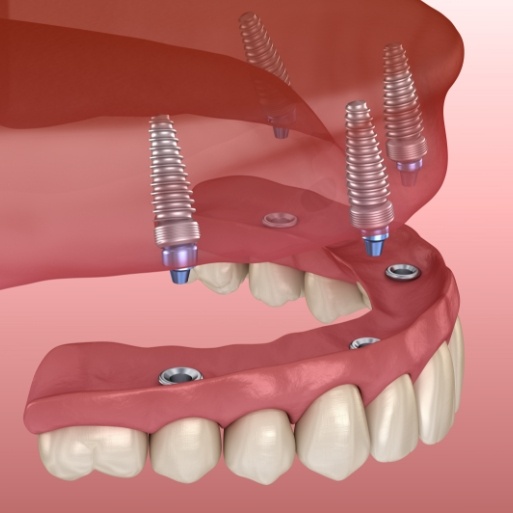 All-on-4 is a method of retaining a full denture in the upper or lower jaw on as few as four dental implants. It's also called Teeth In a Day because the prosthetic teeth can be affixed onto the dentures within 24 hours after placement.
All-on-4 offers patients all of the benefits of dental implants, just achieved more efficiently and affordably. The benefits of dental implants for a full denture include:
Restored ability to chew, speak, and smile with ease
No need for denture creams or adhesives
Improved oral health with a stabilized jawbone
Offers a long-lasting tooth replacement
All-on-4 vs. Traditional Dental Implants in State College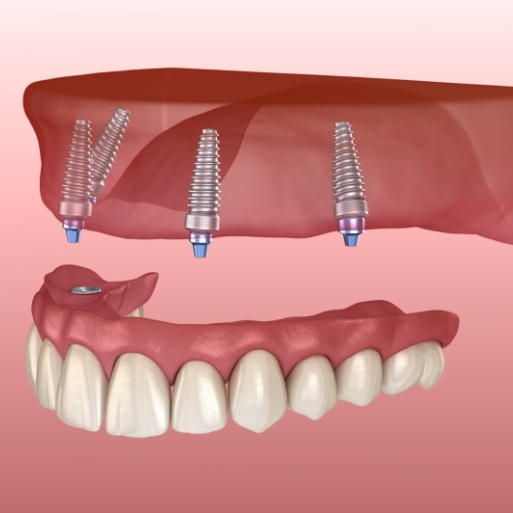 How does All-on-4 compare to the traditional method for dental implants? First of all, the implants used for All-on-4 are longer, and their strategic, angled placement provides the increased stability for the teeth that are affixed on top. Securing a full denture with traditional dental implants would require as many as eight implants in the whole jaw, and may take as long as a year to complete. And thanks to the strategic placement of All-on-4, which provides maximum stability for the new teeth, choosing this method of implants can also eliminate the need for preparatory procedures like bone grafting or sinus lift.
The advantages offered by All-on-4 compared to traditional dental implants for total tooth replacement include:
Teeth placed within 24 hours after dental implant placement
Can be more affordable overall, as fewer dental implants are required to secure the denture
Eliminates the need for preliminary procedures, like a bone graft or sinus lift
Increases implant eligibility for many patients
Can secure an existing denture
Is All-on-4 Right for You?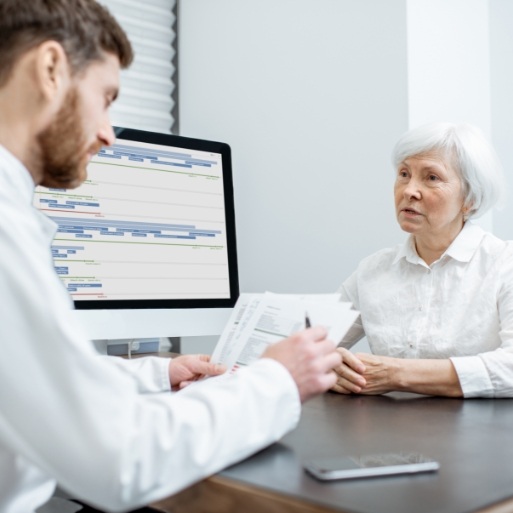 If you are missing all of your teeth in the upper or lower jaw, if you have been told you would need a bone grafting procedure before traditional dental implants, or if you are dealing with a loose, ill-fitting denture, All-on-4 could be a wonderful option for your smile. The only way to know for sure whether or not you are a good candidate for this replacement method is to schedule an appointment with Dr. Labosky and our team. With that in mind...
Let's Get Started Today!
If you're interested in benefitting from the stability of dental implants after the loss of all of your teeth, All-on-4 dental implants could be the right solution for you. Find out more about Teeth In a Day in State College -- request an appointment today!