Cosmetic Dentistry – State College, PA
Smile-Transforming Cosmetic Dentistry in State College
If you're unhappy with any aspect of your smile, cosmetic dentistry services from your trusted State College, PA dentist, Kevin P. Labosky, DMD, can help you transform flawed teeth into picture-perfect smiles. We offer a wide array of cosmetic treatment options and take the time to help you discover your best and brightest smile. Call our team to schedule a consultation to discuss cosmetic dentistry in our State College, PA dental office to start down the path to your dream smile. We welcome patients from nearby communities including Boalsburg and Bellefonte.
Why Choose Kevin P. Labosky, DMD for Cosmetic Dentistry?
Lifelike, Metal-Free Restorations
Affordable Bonding and Teeth Whitening Available
Address Multiple Imperfections At a Time with Veneers
Porcelain Veneers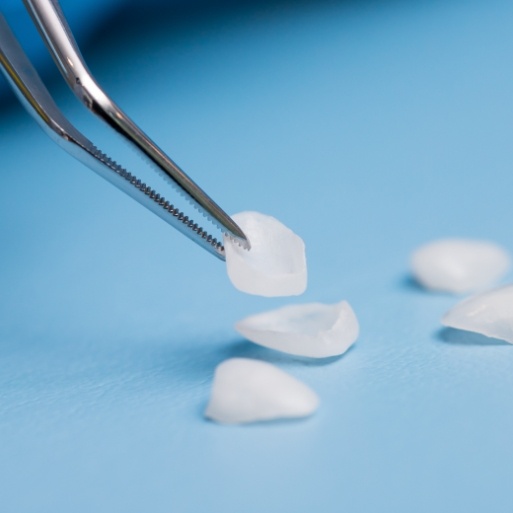 Porcelain veneers are thin sheaths that are fused to the front facing surfaces of teeth to conceal any number of cosmetic flaws including chips, cracks, gaps, and stains. Traditional veneers require two appointments at our dental office to create and place. During your first appointment, we'll need to remove a small amount of surface tooth enamel. This allows the veneer to lay flat within the natural smile line. Then, we capture impressions of your prepared teeth that are used by the dental lab to craft your custom veneers. Before you leave the dental office, we place a temporary that will protect your teeth until the custom solution is completed. Once we receive your final porcelain veneer from the lab, you'll return for a second appointment where we'll exchange the temporary for the customized veneer.
Learn More About Porcelain Veneers
Metal-Free Dental Restorations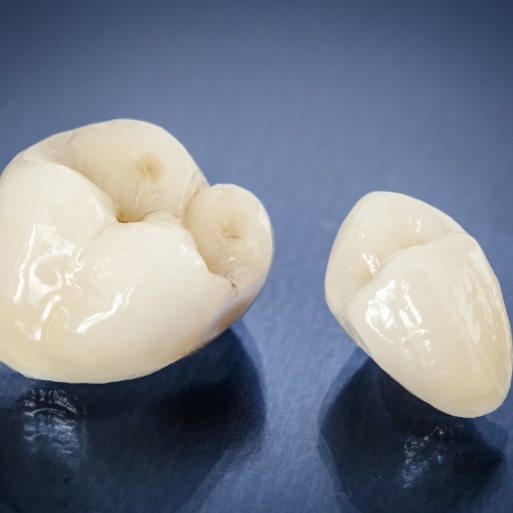 In addition to offering a cosmetically superior restorative solution, all-ceramic crowns can be used for purely cosmetic restorations as well. Porcelain fused to metal restorations does offer similar cosmetic results initially. However, over time, the porcelain layer wears away revealing the darker colored metal below. For this reason, all-ceramic crowns offer a superior cosmetic solution. Crafted from a single block of precisely shaded dental grade ceramic, metal-free restorations retain their natural look even after years of wear. Completely metal-free, these ceramic crowns, inlays, onlays, and fixed bridges are the only restorations recommended for patients who experience allergies or sensitivities to metal. The restoration process is completed over the course of two visits to our State College dental office. During your first appointment, we prepare the tooth, capture impressions, and place a temporary. When the custom restoration is received from our trusted dental lab, you'll need to return to our dental office where we'll exchange your temporary for a custom restoration.
Cosmetic Dental Bonding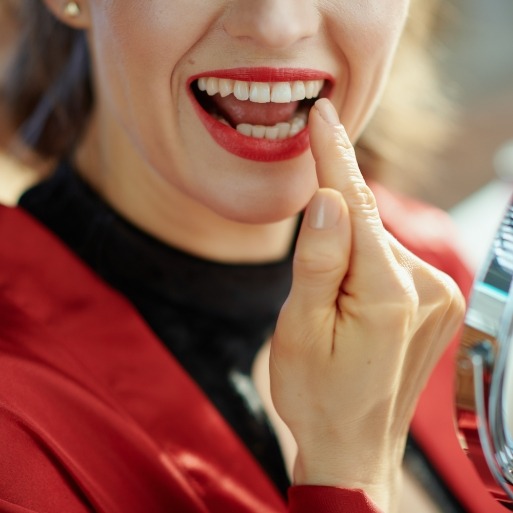 While porcelain veneers are recommended for patients who wish to conceal extensive cosmetic flaws like numerous chips, cracks, and wear, direct bonding offers a same-day treatment alternative for those patients who need a minimal amount of cosmetic repair. Using the composite resin material that makes up tooth-colored fillings, we correct or conceal these cosmetic irregularities, saving patients time and money compared with porcelain veneers or Lumineers. The composite resin is shaded to match teeth. Then, the putty-like material is applied to cover up stains, fill in cracks, or shrink gaps between teeth. Once in place, we use a curing light to harden the composite. Finally, we polish the treated teeth to a brilliant shine, and you can leave the dental office with a flawless smile.
At-Home Teeth Whitening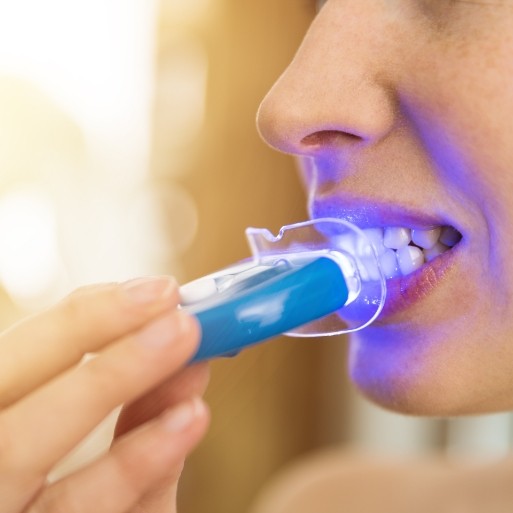 If you have sensitive teeth, prefer more gradual smile brightening, or want to touch up the results of your in-office whitening, our professional grade take-home teeth whitening kits can provide the same results as in-practice whitening over the course of several weeks of daily application. Our take-home kits include professional grade whitening gel and a custom application tray to ensure maximal comfort and effectiveness. Simply apply your whitening gel and wear the application tray for the predetermined amount of time each day, and watch as your smile goes from dull to dazzling.
Learn More About Teeth Whitening
Gum Recontouring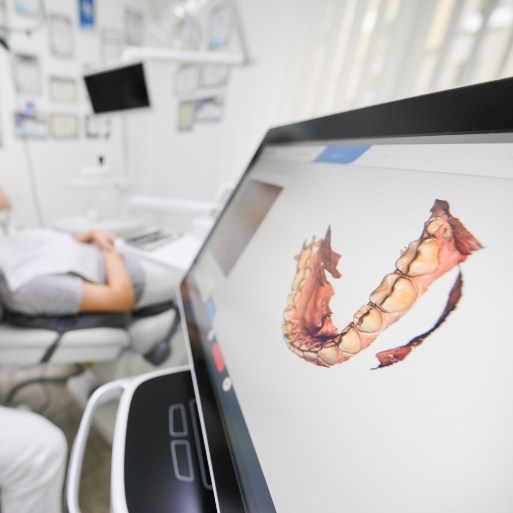 Whenever you smile, do you see more gums than teeth? Or do you have an uneven gum line that makes your teeth look like they are all different sizes? These are common issues, and ones that Dr. Labosky can fix with gum recontouring. This involves removing excess tissue to reveal more enamel and shaping the gums so that the end result is a well-balanced, uniform smile. Most of the time, the procedure can be completed in as little as one appointment, and the results will last a lifetime.
Digital Imaging to Design Smiles
One of the most important aspects of your cosmetic dentistry consultation, digital images allow us to offer you samples of how any number of treatments can improve the overall appearance of your smile. We start by taking a photo of your current smile. Then, we use specialized software to show you how any combination of cosmetic services can transform your smile's appearance. You can even take images home with you to get feedback from family and friends before you make your final decision.
Cosmetic Dentistry FAQs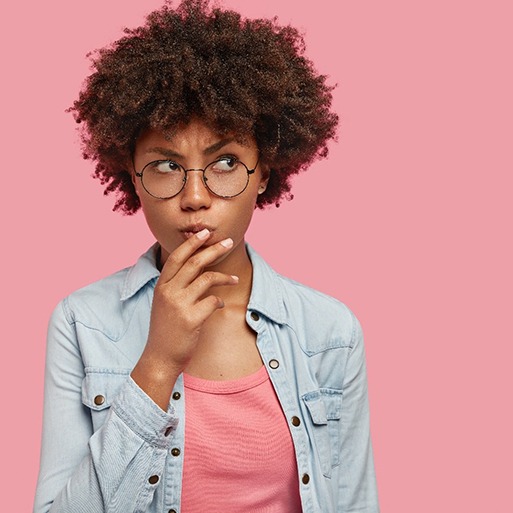 If you're looking for smile-transforming cosmetic dentistry in State College, look no further than the practice of Dr. Labosky and his team! We're excited to help you finally achieve the smile you've always wanted. However, it's only natural to have some questions before you're ready to commit to a treatment plan. While we'll be happy to answer all your questions in-person during your consultation, we've gathered some of the most common questions we get about cosmetic dentistry below so you can learn more. When you're ready, give us a call to schedule your next appointment!
Which Cosmetic Dental Service Is Right for Me?
With so many cosmetic dental services to choose from, it can be difficult to know which one is best for you. Plus, many of our treatments are versatile and can be used to address several different types of dental flaws! If you're not sure which one is right for you, we would be more than happy to help you evaluate your options. We can even give you a preview of your results!
When you come in for your consultation, we'll discuss your goals for your smile with you and inspect your oral health. From there, we'll be able to explain which of our services would be most effective at helping you reach your desired results. We can also use our advanced digital imaging software to show you a virtual preview of what the results would look like on your unique smile. This way, you can begin your treatment already knowing that you'll love the final look.
How Do I Know If I Need Cosmetic Dentistry?
If there's something that you don't like about your smile, you could benefit from cosmetic dentistry. Whether your teeth are a bit duller than you'd like or you have one oddly-shaped tooth, or whether you have numerous dental flaws and hide your teeth whenever possible, we can help. We offer a variety of different services that accomplish different things, so we can target exactly what you'd like to change about your smile. If you're still unsure if cosmetic dentistry is right for you, we invite you to see us for a consultation. We'll be happy to discuss what treatments could potentially help you reach the smile of your dreams, and we'll even be able to show you a digital preview of your results with our digital smile design software!
How Long Does Cosmetic Dentistry Take?
The length of your cosmetic dental treatment will depend on a variety of factors. Naturally, the largest factor will be which service you choose. Some treatments, like cosmetic bonding, can enhance your pearly whites in one quick and easy appointment. An at-home teeth whitening kit will typically take about two weeks to brighten your smile. Meanwhile, custom-made solutions like veneers or metal-free dental crowns will take several weeks to design, fabricate, and place.
Is Cosmetic Dentistry Expensive?
Cosmetic dentistry is not covered by dental insurance, which unfortunately means that the cost is primarily (if not entirely) out-of-pocket. However, we don't want cost to stand in the way of helping our patients achieve the beautiful, confident smiles they deserve! That's why we've partnered with CareCredit, a third-party financing company. CareCredit offers a variety of low- to no-interest payment plans for qualifying patients. This way, you can break up the cost of your new smile into smaller chunks that fit easily into your monthly budget.