Full & Partial Dentures - State College, PA
Take Back Your Smile with Personalized Dentures
Replacing teeth after extensive tooth loss can seem like an overwhelming task. Today, multiple dentistry solutions allow patients to fully renew their smiles following even the most advanced tooth loss. If you're missing numerous teeth or a full row of teeth, custom crafted partial and full dentures from Dr. Kevin Labosky and his State College dental team may be just right to put the smile back on your face. If you want to learn more about your tooth replacement options, contact our caring dentist and knowledgeable dentistry team to schedule your consultation today. Dr. Labosky and his team will assess your smile, answer your questions, explain your treatment options, and most importantly, partner with you to find the right treatment option, including full and partial dentures in State College, PA.
Why Choose Kevin P. Labosky, DMD for Dentures?
Lifelike Materials Used for Best Esthetics
Highly Personalized for Best Comfort
Pair with Dental Implants for More Secure Fit
Partial Dentures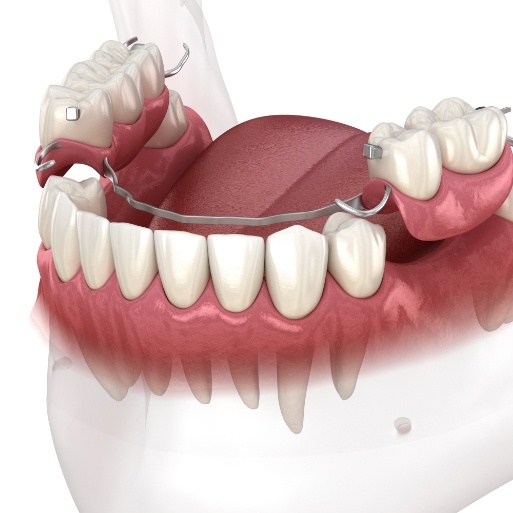 Partials and full dentures are tooth replacement prosthetics that use a gum colored base to provide support for numerous replacement teeth in just one restoration. Partials are molded to fit between remaining healthy teeth, and the base is snapped into position against healthy teeth with metal clasps, flawlessly recreating the smile.
Full Dentures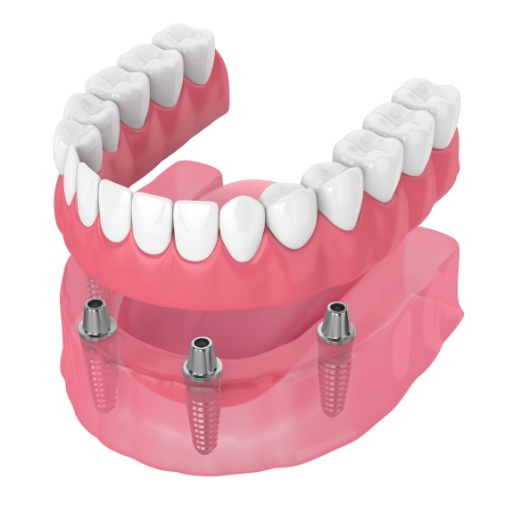 Full dentures do not have surrounding healthy teeth to provide support. Instead, the denture base is molded to fit snuggly against the gum line. This creates natural suction that will hold the denture firmly in place.
Dental Implant-Supported Dentures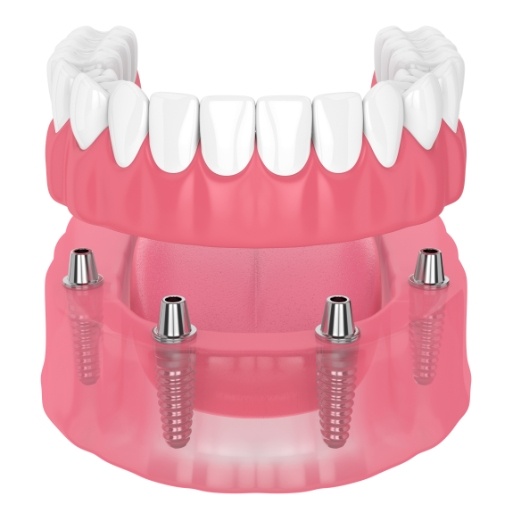 For patients interested in a more advanced tooth replacement option, dental implant-supported partial and full dentures are available. Traditional dentures renew the appearance of your smile and restore about 20% of healthy chewing function. Dental implants look flawless and they provide dramatically increased stability with 70% or greater renewal in chewing range, and they last decades or longer without need for adjustment or replacement. Dental implant posts mimic the underlying root structures of teeth, supporting your denture and creating a more natural feeling and functioning smile.
The Denture Tooth Replacement Process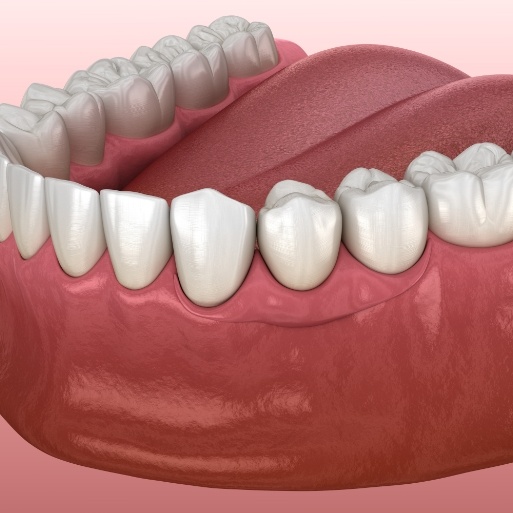 Patients who need to undergo advanced tooth replacement should plan to visit our dental office for at least two treatment appointments. Patients who need to have teeth extracted, who chose dental implant-supported dentures, or who need bone or soft tissue grafting should plan on one or more preparation appointments to complete these additional procedures. Once the smile is fully prepared, the partial and full denture creation and placement process are very straightforward. We capture impressions of patients' bites that will be used by a dental lab to craft the denture. Once we receive the custom partial or full denture, you'll return to our dental office, so we can place your restoration. If it fits and functions properly, you're all set. If we need to make adjustments, we'll schedule another appointment as soon as our lab can adjust the denture.
Caring for Dentures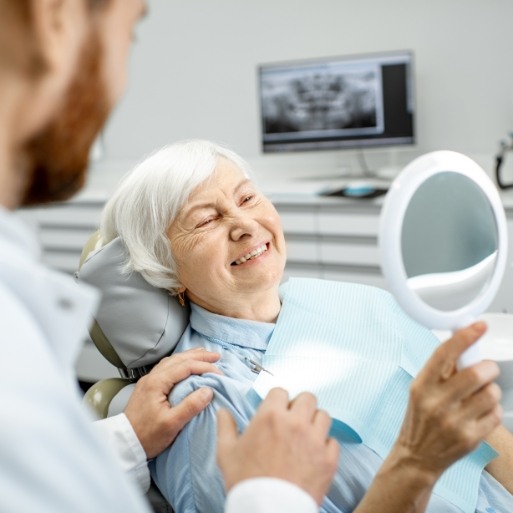 Patients with removable partial and full dentures will need to brush their tooth replacement at least once each day. You can use a special denture toothbrush or ultra-soft toothbrush, whichever you feel more comfortable with. You should use a minimally abrasive toothpaste to help keep the dentures minty fresh. When you're not wearing your denture, it should be stored in cool water or denture cleaning solution. Implant-supported dentures should simply be brushed twice a day just like healthy, natural teeth. You should also keep up with your regular dental office appointments to ensure your denture functions well.