April 20, 2020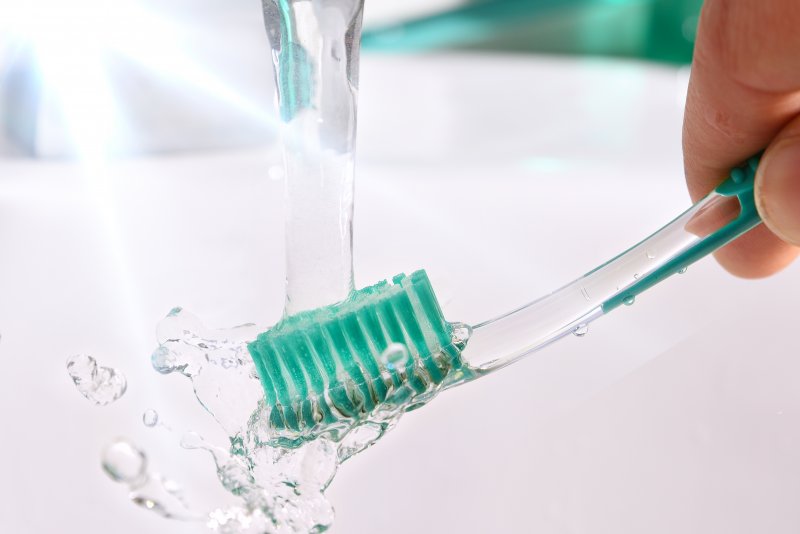 Want to avoid COVID-19? If you're like the rest of the global population, you are taking extreme measures to ensure the health and safety of you and your loved ones. While you may be washing your hands diligently, wearing a face mask, and using far more hand sanitizer than you ever imagined, there is one more thing you can do to better protect yourself – improving your oral hygiene. If you're asking, "How can my morning and nighttime dental routine help me avoid the possibility of contracting COVID-19," your dentist is happy to share a few tips designed to eliminate unnecessary germs and keep your smile looking and feeling its best.
Wash Your Hands Before Brushing Your Teeth
Brushing your teeth requires that your hands be near your mouth. To ensure no germs are transferred between the two, wash your hands with soap and warm water for at least 20 seconds. This is the proper protocol the Centers for Disease Control & Prevention (CDC) suggests to reduce the likeliness of contracting COVID-19. By thoroughly cleaning your hands, you will avoid harmful bacteria landing on your brush handle.
Allow Your Toothbrush to Air Dry
Keeping your toothbrush in a dark, damp drawer or placing a cover over it can cause bacteria to grow and accumulate on the bristles. While you may think are protecting it from the elements that travel through the air, you are actually doing more harm than good. Instead, place your toothbrush in a cup and let it air dry. Just be sure to place it in an area of your bathroom that is far away from the toilet and remember to disinfect the cup that is holding your toothbrush regularly.
Throw Away Your Toothbrush or Brush Head if You've Been Sick
Whether you've come down with a cold, the flu, or COVID-19, make sure you dispose of your toothbrush or brush head (if using an electric toothbrush). Continuing to use it after you have recovered from your ailment will put you at risk of getting sick again. To avoid, make sure you purchase a new brush so that you do not transfer harmful germs into your mouth.
Disinfect the Handle of Your Toothbrush
If you're not careful, bad bacteria can live on the handle of your toothbrush and eventually land in your mouth. To keep it clean, disinfect it with Lysol. You can also wear gloves while brushing as an added precaution, just be sure to dispose of them once you are finished cleaning your teeth to avoid cross-contamination.
Now that you know just how easy it is for bad germs to spread while brushing your teeth, take the extra precautions to keep yourself safe amid the COVID-19 crisis.
About the Author
Dr. Kevin Labosky earned his DMD from Temple University School of Dentistry in 1997 and worked as an associate dentist for 7 years before opening his practice in 2004. Although he is currently only seeing patients with dental emergencies, he and his team want to help you maintain a healthy smile while at home. This means being diligent about your oral hygiene routine and taking extra steps to avoid harmful bacteria or germs from reentering your mouth. If you need help to find ways you can better protect your smile, visit our website or call (814) 237-7004.
Comments Off

on How Improving Your Oral Hygiene Can Lower Your Risk of Contracting COVID-19
No Comments
No comments yet.
RSS feed for comments on this post.
Sorry, the comment form is closed at this time.