November 9, 2020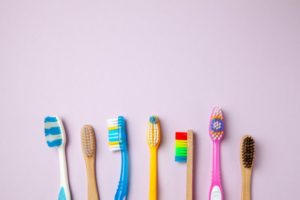 You're standing in the oral health aisle at the grocery store, staring at their wall of dental care. Deciding what you need can be difficult, and shopping for your family can be even more confusing. You can choose a manual or electric toothbrush. Then there's choosing the right bristles, and the list goes on! Your dentist in State College is happy to recommend the right toothbrush for you. But if your next dental appointment is a few months away, keep reading for information on what to consider when selecting your new toothbrush.
First Things First…
The first thing to consider when selecting your toothbrush is the size you need. The right head size will easily fit into your mouth and brush one or two teeth at a time. If the tip of your toothbrush jams into the back of your jawbone, it may be too large for you. Even as an adult, you may consider using a youth toothbrush if you have a smaller mouth.
Which is Better: Manual or Electric?
According to the American Dental Association, both manual and electric toothbrushes efficiently remove plaque from your teeth. Depending on your specific needs and preferences, either of these options can help keep your mouth healthy.
Electric Toothbrushes: Studies show that electric toothbrushes clean your teeth and gums better than manual options; and rotating toothbrushes clean better than toothbrushes that simply vibrate. This option is great for people with carpel tunnel, arthritis, or developmental disabilities. They also have built-in timers to help you brush for the recommended 2 minutes, and they can help improve the oral health of people with braces.
Manual Toothbrushes: Manual toothbrushes may not have all the bells and whistles that electric toothbrushes have, but they are still quite effective at removing plaque and preventing gingivitis. This option is typically more accessible and affordable than electric toothbrushes. They also come in a wide range of colors and bristle types, so you can customize your dental care.
What Kind of Bristles?
Generally, dentists recommend soft bristle toothbrushes over medium or hard. Most people assume hard bristles are more effective at removing plaque, stains, and debris. But many dentists recommend avoiding them altogether! Abrasive toothbrushes can and often will cause receding gums, which can increase your risk of sensitivity and root cavities. For most people, the best bet is a soft-bristled toothbrush that can reach slightly below the gumline. If you've been diagnosed with any level of gum disease, you would benefit more from a deep-cleaning toothbrush that is effective at reaching below the gumline. Do you have braces or crowded teeth? Extra soft bristles are more flexible and can get under wires, around brackets, and fit into very tight spaces.
Regardless of which toothbrush you choose, it's important to make sure you brush effectively. This includes brushing twice and flossing at least once each day. And don't forget to replace your toothbrush or toothbrush head at least every three months. If you still aren't sure which toothbrush you need, visit your family dentist in State College for more advice.
About the Author
Dr. Kevin Labosky completed his DMD at Temple University of School of Dentistry. His commitment to continued education each year provides him the ability to offer high-quality dental care to patients of all ages. To learn more about preventive care and other services offered, don't hesitate to visit the website or contact the office at (814) 237-7004. Dr. Labosky and his team look forward to giving you and your family the smiles you deserve!
Comments Off

on Details to Consider When Choosing Your Next Toothbrush
No Comments
No comments yet.
RSS feed for comments on this post.
Sorry, the comment form is closed at this time.