April 30, 2021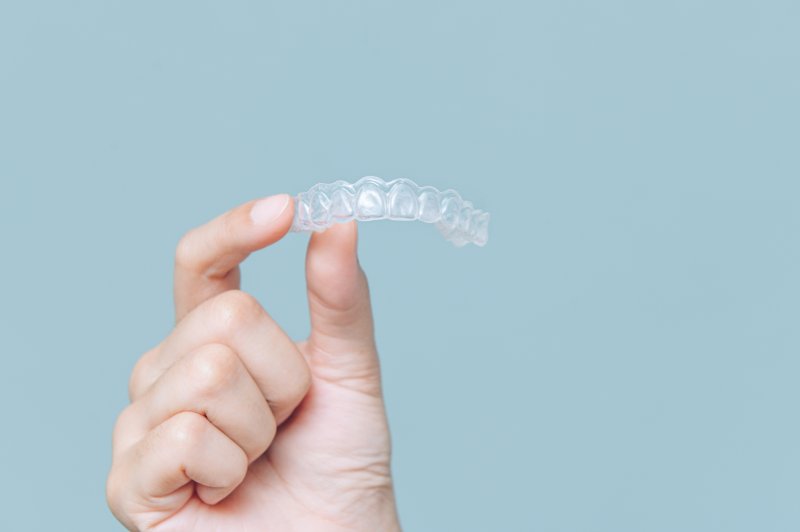 Since Invisalign was introduced in the late 1990s, millions of patients across the U.S. have used this discreet orthodontic treatment to achieve their smile goals. After all, the clear aligners are not only incredibly effective, but they are also practically invisible and deliver results in a fraction of the time needed for traditional metal braces. If you are interested in addressing crooked, crowded, or spaced-out teeth but have a few questions on your mind before committing to treatment, keep reading for the answers to some of the most common FAQs!
#1. Is Invisalign Treatment Painful?
Orthodontic treatment of any kind, including Invisalign, comes with some soreness. After all, the aligners are slowly shifting your teeth into an entirely new position! Fortunately, sticking to soft foods and taking OTC pain medication as you adjust can help make transitioning to the next set of trays as comfortable as possible.
#2. How Many Hours a Day Do I Have to Wear My Invisalign Trays?
For maximum effectiveness, you should wear your aligners for 20 to 22 hours a day. To stay on track with your treatment timeline, try to only remove them when absolutely necessary, like during meals or while completing your oral hygiene routine.
#3. My Aligners Are Turning Yellow – What Should I Do?
If your trays begin to stain or discolor, there are a few things you can do:
Always remove your aligners when eating or drinking (with the exception of water).
Rinse your trays after taking them out of your mouth.
Clean your aligners daily with the right products (no abrasive toothpaste or hard-bristled toothbrushes that can rough-up the surface).
Avoid darkly pigmented foods and drinks, like coffee and berries.
Quit poor dental habits, like smoking.
#4. Will Invisalign Affect How I Speak?
To create words, your tongue makes a series of distinct movements against the back of your teeth. Naturally, when you initially put in your aligners, your mouth will need some time to adapt. The good news is that many patients don't experience a lisp at all, and those that do can speed up the adjustment process by reading aloud and practicing the more difficult words repeatedly.
#5. Is There Anything I Can't Eat with Invisalign?
Unlike other orthodontic treatments, Invisalign doesn't come with a list of dietary restrictions. Since the trays are entirely removable, you're free to enjoy all your favorite foods as you please! Just make sure to fill your diet with vitamin-rich, nutrient-dense foods, which will help prevent a dental problem, like tooth decay, from derailing your treatment.
Now you know a bit more about what to expect from the Invisalign process. For more information on this discreet, smile-enhancing treatment, get in touch with your dental team today!
About the Author
Dr. Kevin Labosky earned his dental doctorate from the Temple University School of Dentistry in 1997, and he has been helping patients restore and maintain their beautiful, healthy smiles ever since! He continues to pursue extensive continuing education annually and maintains an active membership with multiple professional organizations to stay abreast of the latest techniques. That way, he can provide each of his patients in the State College area with only the best that dentistry has to offer. If you are interested in learning more about Invisalign or would like to schedule an initial consultation, don't hesitate to visit his website or give him a call at 814-237-7004.
Comments Off

on The 5 Most Asked Invisalign Questions, Answered!
No Comments
No comments yet.
RSS feed for comments on this post.
Sorry, the comment form is closed at this time.