January 18, 2021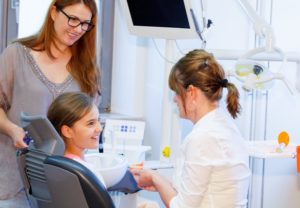 You want your child to avoid cavities, gingivitis and other issues, but what can be done to ensure maximum protection? It turns out that the quality of their diet factors greatly into children's oral health. As you read further, learn why nutrition matters and what foods are best suited for preventing cavities and other dental health problems.
Why Nutrition Shouldn't be Ignored
Children need strong teeth to chew food, speak properly and maintain a nice smile. Unfortunately, it's impossible to eat without there being an impact on their oral health. That's because as food is chewed, the teeth and gums are bathed in debris, including leftover sugar that feed harmful oral bacteria. Even after food has been digested, leftover particles linger behind. If the food choices aren't the best, there will be a much greater chance of developing cavities and gingivitis (gum inflammation).
Nutrition Tips for Children
Here are some more oral health-friendly foods:
Fruits and vegetables – Items like pastries, processed snacks, candy and bread are high in sugar. However, fruits and vegetables are much kinder to teeth and gums. While they contain different amounts of sugar, they are naturally occurring, which means they are less detrimental to your child's oral health.
Lean proteins – Eating choice proteins like fish, chicken, eggs, peas and legumes will help to strengthen and maintain the connective tissue that secure the tooth roots.
Dairy products –
Low-fat milk, cheese and plain yogurt provide a jolt of calcium that strengthens tooth enamel (the hard-outer layer of the teeth).
Don't Forget the Basics
While making the right diet choices plays a big role in your child's oral health, there are other basics that still matter. The foundation of his or her dental care must be built on practicing excellent dental hygiene, which should include brushing and flossing at least two times a day. To ensure effectiveness, you'll want to monitor your child's technique and make sure it's done.
No matter how healthy he or she eats, all foods can become harmful if their leftovers are allowed to linger on the teeth and gums. To be on the safe side, dental hygiene should be performed around 30 minutes after each meal or snack.
By implementing the above tips and maintaining regular visits to a family dentist in State College, you'll be helping your child enjoy fantastic oral health well into the future!
About the Author
Dr. Kevin P. Labosky is a graduate of the Temple University School of Dentistry. With over two decades of experience treating an array of dental conditions, the husband and father of two has the knowledge necessary to offer comprehensive care. An active professional, Dr. Labosky has taken several hours of continuing education to further expand his knowledge so he can effectively treat patients of all ages. He can be reached for more information or to schedule a visit through his website.
Comments Off

on How a Nutritious Diet Can Improve Your Child's Oral Health
No Comments
No comments yet.
RSS feed for comments on this post.
Sorry, the comment form is closed at this time.